New Woman's Course Record Set at 7th Annual D&L Heritage Half Marathon
Walkers Compete from 14 States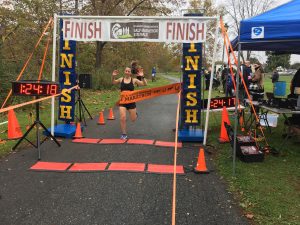 Jenna Papaz, a mother of two from Bethlehem, set a new course record for women during the seventh annual D&L Heritage Half Marathon Run/Walk on Sunday, a near-perfect running day thanks to a cool, overcast autumn morning. Jeffrey Young of Bryn Mawr was the overall race winner.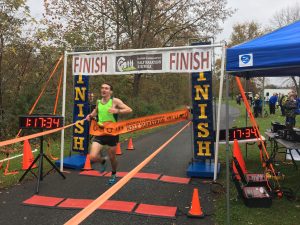 Papaz's time of 1:24:18.8 was the big news as she set a new course record for women in the race that featured more than 900 runners and walkers.  With a time of 1:17:35.4, Young was the men's winner.  Said to be the Lehigh Valley's fastest half marathon, the race started at Northern Lehigh High School in Slatington and finished at Canal Street Park in Northampton after crossing the Lehigh River in Cementon.
With few walker-friendly half marathons nationwide, walkers came from as far away as Washington, Texas, Arizona and Montana to compete in Sunday's event.  The overall winners were Dennis McCornac of Baltimore, MD with a time of 2:35:35.2 and Stephanie Holland of Lehighton with a time of 2:37:22.5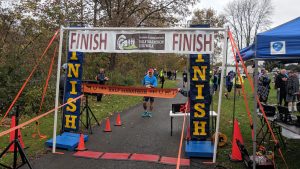 Runners, walkers and more than 150 volunteers were treated to a canopy of the region's remaining fall foliage and spectacular views of the Lehigh River along the Delaware & Lehigh National Heritage Corridor's 13.1-mile overall downhill slope course, run on its signature crushed limestone surface along the Lehigh.
The D&L Half Marathon aids the efforts to connect the entire 165-mile D&L Trail in Eastern Pennsylvania from Wilkes-Barre to Bristol.  The trail connects the public to the region's industrial heritage, environment and nature, health and wellness and economic development.
Much of the race's success is due sponsorships and partnerships from Discover Lehigh Valley,  St. Luke's University Health Network, Shop Rite of Bethlehem Township, Rentschler – Chevrolet, Chrysler, Jeep, Dodge, Ram of Slatington, DICK'S Sporting Goods and Biofreeze.  Local partners include Northampton and Lehigh Counties, Northampton and Slatington Boroughs, Whitehall and Washington Townships, Northern Lehigh School District, Northern Lehigh EMS and the National Canal Museum
Full race results are available HERE [http://my3.raceresult.com/85322/]
CLICK HERE for photos of all participants  http://www.racephotonetwork.com/QPPlus/SearchBibNumber.aspx?EventID=1986982&_AccountNumber=2770
The Delaware & Lehigh National Heritage Corridor is a 501(c)3 non-profit organization that preserves historic pathways that carried coal and iron from Wilkes-Barre to Philadelphia. Today, the D&L Trail connects people to environment and nature, health and wellness, economic development and our nationally significant industrial heritage.