Walkers
Date:

Sunday, November 7, 2021, 8:00 AM

Start:

Finish:

Entry Fee:

7/1/21 to 7/15/21 $60
7/16/21 to 9/15/21 $70
9/16/21 to 9/30/21 $80
10/1/21 to 10/31/21 $90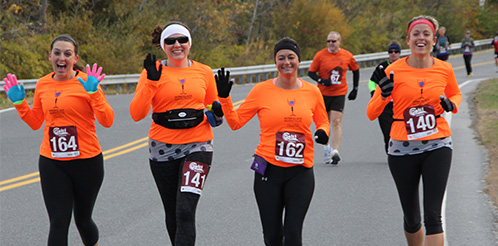 Register Now
Field Limit: 1,000
Time Limit: 4:30:00
This is for participant safety. Road crossings will re-open and the course will have limited support after this time. It is important to properly evaluate your fitness level prior to entering.
D&L Half Marathon Course
The rail trail follows the former Lehigh Valley Railroad and stacks of railroad timbers can still be seen in some areas. Your journey will entail a peaceful route through lush forests and towering rock cliffs with breathtaking views of the Lehigh River. The pathway from mile 2 to 12 is is flat and coated with crushed limestone, a perfect walking surface. Course has a net 204 elevation drop!
Awards
Overall male and female awards for first three places. There are three age group prizes in each age division. There is no duplication of awards. Award winners are determined by chip time.  First D&L Member to cross finish line will receive an award.
Age Groups
13-49 (M), 50-59 (M), 60+ (M), 70+ (M)
13-39 (F), 40-49 (F), 50-59 (F), 60+ (F), 70+ (F)
Race Amenities
Chip timing by Pretzel City Sports
Indoor facilities near the starting line
Hydration stations with Gatorade Endurance Formula and water
Long-sleeve t-shirt in men's and women's sizing
Pacing groups ranging from about 2:45 to 4:30
Very cool finishers' medals
Free transportation for walkers back to starting line after race
Also in this section