Race Information
Date:

Sunday, November 1, 2020, 8:00 AM

Start:

Finish:

Entry Fee:

12/15/19 to 5/15/20 $65
5/16/20 to 5/31/20 $70
6/1/20 to 10/30/20 $80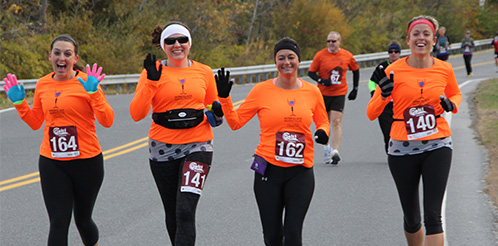 Register Now
Join us on the beautiful, lush D&L Trail for a net downhill and likely tailwind course that is fast as well as easy on the joints. Both runners and walkers are welcome to help support the D&L Trail's history and future. Enjoy a race loaded with amenities including many runner and walker awards, random prizes, a delicious post-race buffet, enthusiastic volunteers, indoor facilities at the start and finish, gender-specific technical T-shirts, and so much more. Register early; the race is capped at 1,000!
Starting Line will be at the Northern Lehigh High School complex. Runners and walkers will have use of the gymnasium at Northern Lehigh High School prior to the race. Gym doors open at 6:00 a.m. Restrooms are available. Participants must be at the starting line at least 10 minutes prior to the start of the race.
Parking will be at Northern Lehigh High School; buses will transport participants back to vehicles after the race.  Parking is available in Northampton at several lots within walking distance of the finish line. Look for signs and volunteers to guide you to available parking.
Training
Check out training plans for runners and walkers.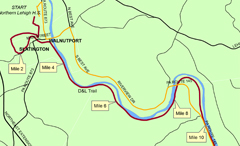 Race Map
Download a printable PDF of the half marathon course.
>> View Map
Participant Information
2019 Event Guide (sent in October)
Race Packet Pick-up –
Saturday, November 2 at Northern Lehigh HS from 10:00 am to 3:00 pm

Sunday, November 3 at Northern Lehigh HS from 6:00 am to 7:00 am prior to race
Participant Overview:
Everyone completing the course within the 4.5 hour time limit will receive a finisher's medal. Half Marathon Run and Walk Awards will be presented to the top three male and female overall finishers.  See "Runner" or "Walker" pages for age-group award break-down.
Please note: Overall Finisher Award recipients will not be included in the age category finisher awards.
*To be eligible for the Walk Awards, you must walk the entire course–no running allowed.
If you will be doing any interval running at all, please sign up as a runner.
The honor system will be used. This is not a judged race walk.
Refunds & Transfer:
Sorry, there will be no refunds or transfers to walkers or runners who decide to cancel their place because of injury, illness, lack of training or change of plan. We are a small organization that begins incurring administration costs and banking charges, simply in processing your entry and payment. We also incur further charges in administering cancellations and processing refund payments.  Thank you for your consideration and understanding.
Also in this section