Swag
You've earned it!
Your entry into the marathon, marathon relay or half marathon will score you a nicely designed technical shirt as well as a finisher's medal that you will be proud to wear on Medal Monday. Both the medals and the shirts will share the same beautiful design.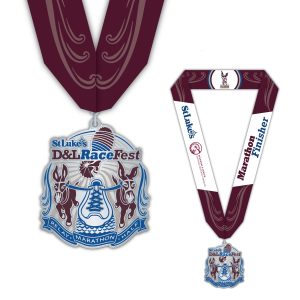 Our whimsical 2023 race medal features our two DLNHC mules, Hank and George, pulling a stylized shoe down a canal. Hank and George pull the real Josiah White II canal boat in Hugh Moore Park in Easton. (You can meet them and ride the boat.)
Mules were used to pull canal boats up and down the Lehigh and Delaware canals to transport coal and goods in the 1800s and 1900s. Mules were prized for their endurance and intelligence. A two-mule team would pull up to 120 tons for 18 hours a day, six days a week. They traveled up to 35 miles a day.
Given the persistence and mentality of distance athletes, we think it's the perfect image for our racers to receive after they finish. (Artwork by Jerry Steward.)
Also in this section