Volunteers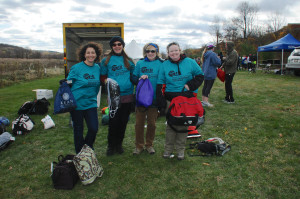 The following list outlines some of the volunteer needs for the event. If you would like to volunteer, please click the registration button below or complete a Volunteer Application (print and return to D&L).  Contact Loretta Susen at [email protected] or 610-923-3548 x221.  Thank you!
Week before
Bib assembly – Help label and sort bibs
Pick-up donations
Volunteer training – For team/group leaders only.
Day before
Bib & Shirt pick-up
Prepare supplies for Hydration Stations
Help Trail Manager to place cones and signs
Day of race
Water Stations
Starting Line – assist where needed
Finish Line – Assist professional timing team
Deliver water and cups to water stations.
Bag drop off before race – Volunteers place bag tag on participants bag w/bib number and place in truck.
Bag drop after race – line bags up by bib number. Return to runners after race.
Trash Patrols
Bib & Shirt pick-up – Help distribute bibs to participants and check them in.  Hand them a shirt in size ordered.
Volunteer check-in/out – Volunteers should already know where they are assigned. Check in the time they arrive and leave.
Hand beverages to runners before race
Serve food and beverage to runners and volunteers after race.
Traffic control

At the school for parking
Loading bus to return to car after event
Assisting police and fire police at road crossings

Direct runners on the course
Assist with handing out medals and awards
Clean up/Take Down
Everyone
**Cheer for runners as they pass**
Also in this section