*Stay Tuned to Register for the 2023 D&L Heritage Half Marathon!*
---
---
In-Person D&L Heritage Half Marathon AND Virtual D&L Trail Challenge
D&L's Dynamic Duo!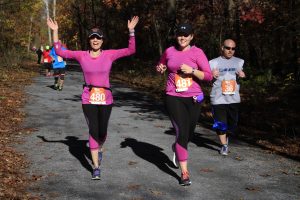 Sign up for both events and receive a discount! Once you register online for one event, you will automatically receive a coupon code for the other. Plus, you will increase your support for Delaware & Lehigh National Heritage Corridor which all community members enjoy all year long.
In-Person D&L Heritage Half Marathon:
We're excited to announce the in-person D&L Heritage Half Marathon Run & Walk for 2023! We look forward to being together again on Sunday, November 12, to celebrate 11 years of this tradition and the top D&L fundraiser.
The race committee is also hard at work developing ways to host a fun and safe race. The health of participants, volunteers, and the D&L community will always be our top priority.
Our half marathon is a fitting tribute to our history on the trails and to our health and solidarity today.
You can keep up with us and our plans online here, or on Facebook.
More information and link to register is in the menu above.
D&L COVID Precautions and Guidelines – click here for a PDF with more information
Participants are highly encouraged to be vaccinated, or have received a negative COVID test within the past 72 hours.
Participants are not required to wear masks while outside or during the race, although it is welcomed.
We highly encourage participants to pick up their registration packets on Saturday, November 11th, the day before the race.
The starting line will be spread out to allow for more distancing. (Chip times will be used for results.)
Awards will be given near the finish line and available shortly after you finish..
Food will be outdoors; participants are welcome to eat outside or take it with them.
If you are sick, or feel unwell, please do not attend.
ALWAYS assess your own health and personal risk level.
STAY HOME if you have experienced any of the following in the 2 weeks leading up to the event:

Sickness or any COVID-19 symptoms (cough, headache, fever, sore throat, or loss of taste/smell)
Virtual D&L Trail Challenge:
The virtual D&L Trail Challenge encourages runners, walkers, and cyclists to log miles during the month of October. There are two levels to choose from: The basic level will challenge runners and walkers to complete at least four cumulative half-marathon (13.1-mile) distances, a total of 52.4 miles, and challenge cyclists to complete at least four full-marathon (26.2-mile) distances, a total of 104.8 miles.
The super level challenges avid runners and walkers to complete the length of the D&L Trail (165 miles) and challenges avid cyclists to complete two lengths of the D&L Trail (330 miles). You can accrue the miles anywhere, anytime; they don't have to be on the D&L Trail itself. A virtual leaderboard and Facebook groups will help you to stay motivated. The virtual challenge can complement your training for those doing the in-person D&L Half Marathon on November 12. Or enjoy the Challenge on its own.
More details available by clicking Trail Challenge in the menu above or CLICK HERE FOR REGISTRATION PAGE.