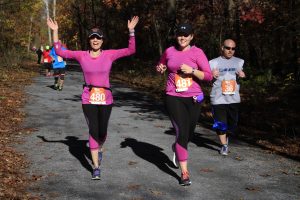 D&L's 2021 Dynamic Duo!
We are thrilled to report that the in-person D&L Heritage Half Marathon is on! With optimism, we look forward to a cool November half marathon on the D&L Trail, together again in person on Sunday, November 7, to celebrate 10 years of this tradition and top D&L fundraiser.
Also, back by popular demand is the virtual D&L Trail Challenge that we initiated last year, offered again this year in addition to the in-person race. The virtual challenge will be held on October 1 through 31, so you can use it to "gear up" for the in-person race. You can register for one or both.
To encourage you to sign up for both events, we'll give you $10 off! Once you register online for one event, you'll receive a $10 off coupon code for the other. Plus, you'll increase your support for Delaware & Lehigh National Heritage Corridor that runners, walkers, and cyclists enjoy all year long.
For your lowest rate, register for one or both of these events NOW, before the July 16 price increase!
In-Person D&L Heritage Half Marathon
The race committee is hard at work developing ways to host a fun and safe race. The health of participants, volunteers, and the D&L community will always be our top priority.
To minimize crowding, we will not be offering an indoor meal for our 2021 Half Marathon. We are working on other delicious options to refuel you after the race.
We will continue to provide bus transportation for participants from the finish line back to their cars at the starting line. However, if possible, we encourage you to coordinate with other participants, friends, and/or family for drop-off and pick up to limit contact on the buses.
Despite the challenges that we've all been through, we plan to make our 10th Annual D&L Heritage Half Marathon our BEST ever. Our half marathon is a fitting tribute to our history on the trails, and to our health and solidarity today.
Watch for updates in the coming months as we continue to identify race options as the situation evolves. You can keep up with us and our plans online here, or on Facebook at https://m.facebook.com/DLHeritageHalf.
Virtual D&L Trail Challenge
The virtual D&L Trail Challenge encourages runners and walkers to log 13.1 miles, and cyclists to log 26.2 miles, each week during the month of October. A virtual leaderboard and Facebook groups will help you to stay motivated. For those doing the in-person D&L Half Marathon on November 7, the virtual challenge can complement your training. Or enjoy the Challenge on its own.
In the event that government or public health officials prohibit us from holding the in-person D&L Heritage Half Marathon, you will have the opportunity to select from three options:
Participate in the virtual 2021 D&L Trail Challenge instead
Donate your registration fee to the D&L National Heritage Corridor, which supports beautiful trails that runners and walkers enjoy all year long
Defer your registration to the 2022 in-person race